Maria Vanessa Leao(Music Director)
E-mail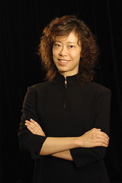 Leão started her music studies at an early age, under the guidance of Ms Catherine Tam. After receiving her Bachelor's Degree in Music with honor from The Chinese University of Hong Kong, where she followed Prof. David Gwilt, she continued to pursue her piano performing studies in the Royal Northern College of Music in the United Kingdom. With the famous Russian pianist, Vladimir Ovchinikov as her instructor, she completed the Diploma on Postgraduate Advanced Studies in Piano Performing. She was presented with the Licentiate Diploma of the Trinity College of Music as well. During her college years, not only did she participate in many of the master classes, international piano competitions and international music camps, she was also acting as a university choir conductor. In later years, she concentrated on music education research at the Baptist University of Hong Kong and from which she graduated with Master's Degree in Music Education.
Leão has given recitals in the United Kingdom, Hong Kong and Macau in the past few years and has been invited several times by the Macau Cultural Institute to give recitals, or to perform with the Macau Chamber Orchestra during the Macau Arts Festival and Macau International Music Festival, for which she has always been given compliments. Starting from 1998, she has become the music director and conductor of the Perosi Choir. The choir has performed in Hong Kong and Zhongsan under her leadership. Leão has been invited as a guest conductor on various occasions. To name a few, in the Macau Handover Ceremony presented by the Macau Handover Ceremony Coordination Office, 442 voices were performed under her baton and during the 12th Macau Arts Festival, she directed the Perosi choir to perform with the famous pianist Liu Shikun. She was invited to conduct the Macau Wind Band and the Choir during the 3rd anniversary concert of the Macau Philharmonic Association, and conducted 200 members formed by five choirs from four territories across the straits in the concert "Melodies Without Frontier" last year. All these were highly appraised. In 2002, the choir, under her guidance and leadership, won the "Third Prize" (intermediate age group) and "Prize for the Excellent Chorus of Chinese Work" in the 6th China International Chorus Festival in Beijing. Starting from 2004, she is invited to be the Music Director of the Macao Cultural Children's Choir.
At present she is the Music Course Coordinator and an Associate Professor of the Macau Polytechnic Institute, and is also a piano lecturer of the Macau Conservatory, as well as a member of the Choir Olympic Council, International Federation of Choral Music and the International Society of Music Education.