| | |
| --- | --- |
| Dixit Maria | |
Written by perosi
DIXIT MARIA
Renaissance German and Portuguese
SACRED MUSIC CONCERT
Date:2010/09/05 (Sunday)
Time:4 p.m.
Location:CHURCH OF ST. JOSEPH'S SEMINARY
Free Admission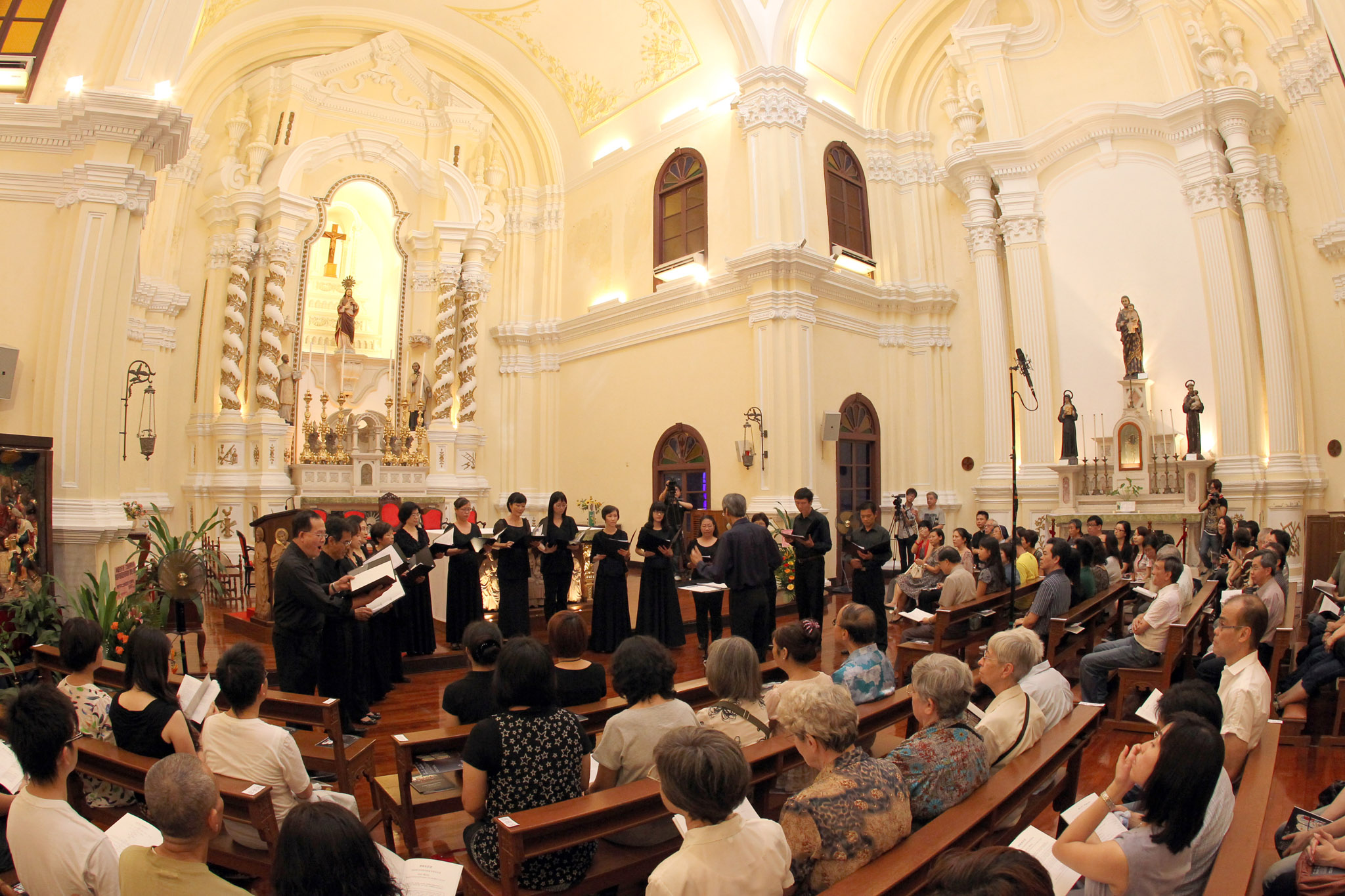 'Dixit Maria'- A Concert of Sacred Music 2010/09/03 Macau Daily Times
Perosi Choir was established in 1997, with the objective to promote the art of choral singing, cultivate interest in music and enhance Macau music culture. Since established, Perosi Choir has not only held annual concerts per year but also been to Hong Kong and mainland China for performances and promotion of Macao local choral compositions on many occasions. The Choir has also been a frequent guest-performer in many major functions at the invitation of the Macao SAR Government.

In 2004, Perosi Choir established a small chorus group which performs acappella works and has since performed in several concerts and functions. This group is going to give the major performance in this concert. Led by their conductor, João Ng, the small chorus group will perform a series of German and Portuguese hymns from Renaissance. The highlight of the concert will be Dixit Maria, a motet by Hans Leo Hassler (1564-1612), one of the influential German composers of the time, and Missa Dixit Maria, his work of Parody Mass composed after Dixit Maria.

The concert will be held at the Church of St. Joseph's Seminary as one of the famous world heritage sites of Macao SAR, with the aim of the organizer to open the eyes of the audience and tourists to local historical architecture while enjoying the concert.
Programme

1. Dixit Maria

Hans Leo Hassler (1564-1612)

2. Missa Dixit Maria

- Kyrie

- Gloria

- Credo

- Sanctus

- Benedictus

-

Agnus Dei

Hans Leo Hassler

10 minutes intermission

3. Ecce Quomodo Moritur Justus

Jacob Handl (1550-1591)

4. Opera Quae Ego Facio

Diogo Dias Melgaz (1638-1700)

5. Adjuva Nos

Diogo Dias Melgaz

6. Adjuva Nos

D. João IV (1604-1656)

7. Ecce Mulier Channanea

Manuel Cardoso (1566-1650)

8. Clamabat Autem Mulier Channanea

Pedro Escobar (1465-1535?)

9. Thou Art My Lamp

(

Local Macao Composition)

Charles Duncan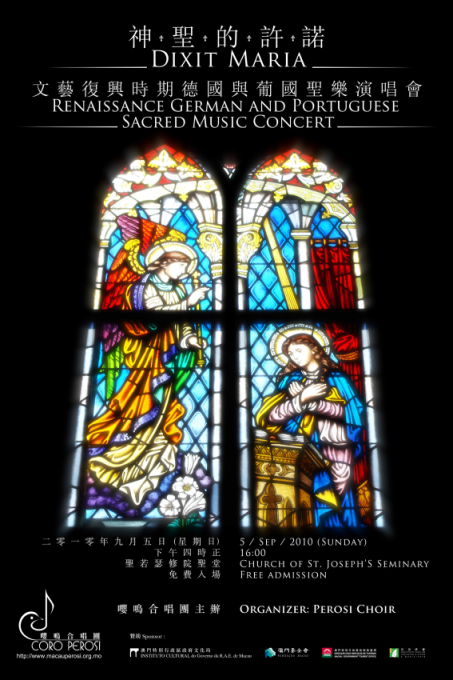 Organizer:Perosi Choir
Sponsor:Cultural Affairs Bureau of Macao S.A.R. Government
Macao Foundation
Macau Government Tourist Office
Civic and Municipal Affairs Bureau